Predeparture:
After over 4 weeks of lockdown on the boat, sitting on a mooring buoy in Fat Hog Bay, the curfew was finally eased a little on 27th April. We had been able to get some groceries delivered in the last week of lockdown by the supermarket, but still had a shopping list as long as your arm to get before we could depart.
We needed more cooking fuel, more diesel and some fresh veg. Curfew lifted at 0600, we were at the shops queuing at 06:15. We were expecting a real bundle to get stuff but actually it was pretty civilised! Having got our supplies we had to pack up the boat and get her from static caravan mode back to lean mean sailing machine. We took the anchor off and stowed it below, cleaned a months worth of marine flora and fauna off the bottom of the dinghy and put that in the forepeak, then squirreled away and extra 140l of water in jerry cans in various locker below.
By John´s birthday (29th) we were ready; everything was stowed, we had netflix and books downloaded and had a great looking weather window to get on our way. However, the immigration official we had been told to contact was not answering our emails. A few phone calls, some mixed message and a very cheerful SAR man later and we were informed that we did in fact need to check out in person from BVI, the only place to do that was 10nm west in the wrong direction and the earliest we could do it would be in 2 days time- thus completely missing the good weather to leave. Still, needs must so off we went to West End.
We spent 2 frustrating days watching the Customs and Immigration officers twiddling their thumbs  and refusing to process us before we finally got underway on May 1st. Still we had fresh bread and cake and got some of the last low priority jobs done in the time so it wasn't all a waste. We blasted out of the lee of the islands on a tight reach in 20 knots, please to be sailing at last even if the weather wasn't ideal. We had a big hole in the wind to negotiate, but we had splashed out on a weather router so were hopeful they would earn their keep.
Drifting North Eastward
Our optimism in the weather routing service turned out to be completely misplaced. Our first waypoints were 130nm apart each 24 hour period, with winds between 5-10knots. Alcyone's best days run to date was 139nm with a good force 7 from behind and a knot or so our favourable current. We had filled in the questionnaire for them with our boat details, typical speed and available fuel quantities (about 48 hours total motoring)- it appears this information was never passed on as we were told to motor excessively until we put our foot down and refused. After that we were told to "drift north or north east" until we reach 30 something degrees latitude and got into the low pressure systems coming off the US coast.
Fortunately for us Alcyone is a proper sailing boat and we packed the 150% genoa (aka the Big Boy). This means she will keep sailing pretty well at 3+ knots in anything above 5 knots of wind. When the wind did stop completely we dropped the sails and went for a swim in 6000m of water- it was 38º C, while Ellie swore never to do this, the alternative of melting alive seemed worse so we risked the Kraken's wrath and jumped in! Then scrambled out again pretty sharpish!
Another highlight of this bit of the passage was seeing humpback whales breaching, jumping near fully out of the water and flopping back down! They were about 300m behind the boat which was plenty close enough if you have seen this photo. Seeing this was 6 year old Ellie's dream come true, who am I kidding- it was 33 year old Ellie's dream too.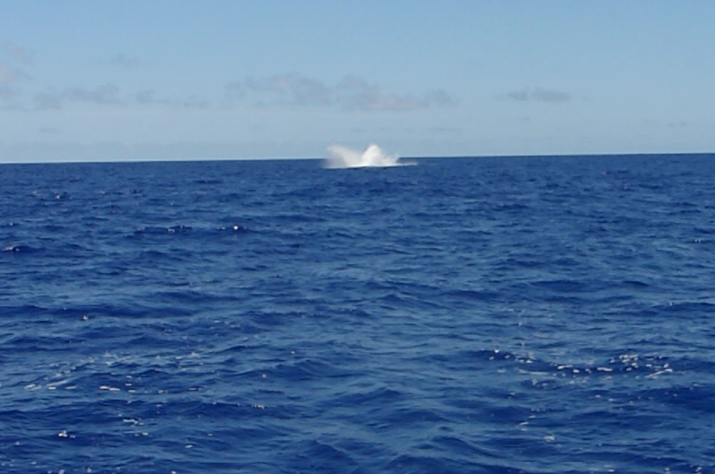 By a week in we had given up using the weather forecaster and were downloading GRIBs to route ourselves. Being short handed means too much wind is almost as bad as too little as sleeping off watch gets tricky and life onboard just gets a bit too much like hard work. We planned a route to skirt round the bottom of the low pressure system in moderate winds. This worked really well and other than the odd front we had nothing to worry about. By now the sea temperature had dropped, the thermals were out and we had the constant company of millions of Portuguese Man of War jellyfish.
Alcyone's First Gale (with us at least)
We were in our 3rd week of sailing and were pretty happy with our route choices and speeds. It became apparent at the beginning of the week that a low pressures system would get pretty big and track quite far south across our course by mid week. Looking at it we were expecting 20-30 knots, gusting 35. The system was so large, and the preceding winds so light, that we couldn't out run it to the south to keep clear. So we used the calm weather to prepare the boat for the worst; from our experience the GRIBs normally underestimate the wind a bit.  We stowed everything below so nothing could go flying, locked locker tops so they couldn't burst open and dug out storm sails, warps and the drogue just in case. All of this was much easier in flat calm seas.
While making these preparations we crossed paths with a large cruising catamaran "Tabee". We had chat on the VHF about our plans for the bad weather, he was in the process of motoring south at 6 knots to stay out of the worst of the wind, however he did clarify that his crew consisted of a 2 year old, a 6 year old and his pregnant partner. Really sometimes you do have to count yourself lucky; at least we had always planned to be doing this crossing about now!
We knew the wind would build in the night and expected the peak to pass fairly quickly during the day. We sailed on a run with just the 3rd reef in the main, a set up we had used on the previous transat, and the auto pilot was handling the conditions well while we slept. In the morning the wind picked up more, as expected, and shifted  more northerly- this gybed and back the main which was held to windward by the preventer. By now we were seeing gusts over 40 knots and sustained 35 knots, we decided to take the cue from the boat and heave-to, stopping the boat and waiting for the wind to pass.
This was the first time we had hove to in anger, and it was interesting to try it out. We knew Alcyone wouldn't sit bow to the wind in a traditional arrangement, but soon got her settled at 60 degree to the waves with the main sheeted in and the engine at 800-1000rpm. We took turns in the cockpit keeping an eye on things and occasionally giving a little spurt on the engine to hold the bow up in big sets of breaking waves. This felt so comfortable down below that each time the skipper went below for a rest she suggested we start sailing again! (Only to look up top and change her mind again).
We stayed like this for 8 hours until the wind had eased to 30 knots, we probably could have started sailing again sooner but we were comfortable and safe so decided to stay as we were. By the evening we were reaching in 25 knots with dolphins leaping and frolicking in the waves- clearly they were enjoying the conditions.
The Last Hurdle
Having weathered the storm we had hoped to get far enough North to be in westerly wind for the few hundred miles into Horta. This wasn't to be, and we ended up beating into easterlies. To  add insult to injury the forecast was pretty inaccurate with much stronger winds than forecast. We were also expecting a favourable wind shift quite early on but that didn't turn up till 12 hours later! This drove Ellie to near mutiny, although how to mutiny against yourself is unclear!
Luckily angry Ellie went to sleep at 0900 on the 23rd May, 3 hours later the world was a much better place. The south easterly winds had filled in, the boat was sailing well and Horta felt in spitting distance- if you could spit some 400nm.  From here on out it felt like a race to get to the finish- as all our long passages seem to end! We put the big sail up and charged along brilliantly. Even when we tried to slow the boat down to get to port in the morning, rather than risking getting in in the dark, the boat was having none of it and charged on at 6-7 knots boat speed. Since she was so keen to get in we stuck the engine on when the wind did eventually drop and arrived at the harbour entrance at 8pm. We had enough time to enter and anchor in the light, but had to do our check in admin the next morning. We were very please to be in with a full nights sleep ahead of us after 25 days 7 hours and about 30mins at sea!
More nerdy stats and figures to come, we have been a bit busy fixing a few things on the boat- but more on that in the next blog post.